Sage Intacct Migration Resource Center
Sage 500 to Sage Intacct Migration
Considering a move from Sage 500 to Sage Intacct? Whether you're new to cloud financial solutions, want to learn about Sage Intacct, or have questions about Sage 500, we have answers. Explore these resources to help you decide if moving to Sage Intacct is right for your business.
Sage 500 to Sage Intacct Comparison Guide
New to Sage Intacct? Start here. Check out the guide for detailed information including a high-level comparison and top reasons customers make the switch.
Get Your Guide
Sage 500 to Sage Intacct Migration FAQs
If you've been considering a move from Sage 500 to a cloud-based ERP like Sage Intacct you may have questions. That's why we've answered frequently asked questions from our clients to help you weigh your options:
Should I be exploring cloud solutions now?
What are some benefits of moving to Sage Intacct?
Sage intacct is described as a true cloud-based solution. What does "true cloud" mean?
Are cloud solutions cost-effective and secure?
Is Sage Intacct a good fit for my organization?
Should I be concerned Sage 500 is going away?
Get Answers
Sage Intacct Quick Overview Webinars (for Sage 100 & Sage 500 clients)
Ready to see Sage Intacct in action? Register to watch this webinar series highlighting the key advantages of Sage Intacct—a true-cloud based solution. Each quick, on-demand session explores a different benefit. Learn how Sage Intacct's financial management solution delivers deep capabilities designed to accelerate your success.
View Sessions and Register
What Our Clients Are Saying
B-29 Investments
Renee Davis, Corporate Controller
"The busy work, the mundane tasks, the repetition are all gone. Also, the speed and efficiency gains allow me to spend more time on strategic projects. Thanks to the efficiencies we've gained with Sage Intacct, we were able to downsize staff while raising productivity."
Arkansas Association of Counties
Cindy Posey, Accounting & HR Manager
"MicroAccounting took the time to understand how we work and what we need from the software, and then configured it to not just duplicate what we had been doing, but really optimize the workflows."
Barnes Family Group
Jennifer Golden, Financial Controller
"Your expertise has made it possible to improve our processes to run more efficiently and effectively. We did it right when we went with MicroAccounting and Sage Intacct."
Migrating Your Data — Trust the Experts
Tackling a migration project can be intimidating; that's why it's important to go with a veteran team Sage Reseller like MicroAccounting. Unlike other VARs (value added resellers) we are a Sage Premier Partner focused solely on Sage ERP solutions so we know what it takes to ensure a successful outcome.
We've spent over 30 years and 1000+ implementations developing and perfecting our migration process. We'll work with you to design and implement the most cost-effective and comprehensive data migration path to ensure you're able to preserve and leverage vital historical data.
If you decide to switch to Sage Intacct we'll be there with you every step of the way to make sure your migration goes smoothly and your team is up and running as soon as possible.
Contact us to learn more about our proven formula for a successful data migration.
Why Stay in the Sage Family
Sage Intacct is continually recognized for finance leadership. In fact, it's the only cloud financial solution recommended by the AICPA. But not only can you rely on Sage for the innovative technology, Sage also ranks #1 in customer satisfaction so you are assured of a great customer experience.
Part of their "Customer for Life" program, as your business grows or changes—or your technology becomes outdated—Sage makes it easy to upgrade to a new ERP solution. If you stay in the Sage family, not only do you retain familiarity with the product, you also retain knowledge of the process of technical support, product updates, and software upgrades.
Migration Center Resources
Ready to see Sage Intacct in action? Browse these resources for information on Cloud ERP solutions and to learn more about Sage Intacct.
Awards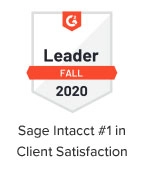 Business Software
Solutions
We provide powerful, configurable business management technology for small- to mid-sized organizations in the Dallas area and nationwide. Our expert consultants can help you select and implement the right solutions to gain efficiency and make faster, smarter decisions.