Take the Wheel — How to Build Dashboards in Sage Intacct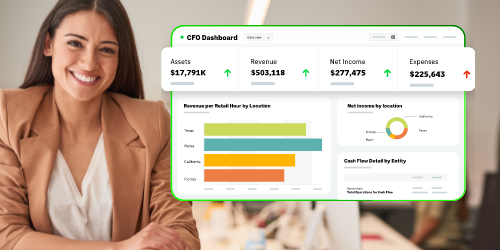 About 65% of the population are visual learners, so it's no wonder most of us love a good visual dashboard! Graphics, charts, KPIs — they all help us make sense of what otherwise might be complex concepts. Sage Intacct has one of the best dashboard engines out there; and if you haven't yet learned how to assemble them, join us on for a webinar on April 12 that will teach you how to take the wheel when building dashboards. Get a head start by reviewing this article.
Here's what you can expect to learn from the webinar:
How to create a personalized dashboard for an individual user or role
How to use filters to zero in on the data you wish to include
How to set permissions to secure who gets to see a dashboard
How to create charts, performance cards, records, reports, or SmartLinks that you want to include
How to leverage dimensions to select, sort, and group your data
Plenty of tips and tricks we've picked up along the way
Why Build Dashboards?
Besides the fact that they look cool, Sage Intacct Dashboards are a quick and easy way to see the real-time data you care about most, without generating reports or queries.
Every Sage Intacct user will benefit from a customized dashboard. One of the most common ways we see them used is to provide executives and board members with real-time visibility in a self-service option. Here are a few more ideas.
Provide each manager with a personalized dashboard showing their budget-to-actual and department-specific reports.
Give the CEO bite-sized nuggets like Cash Balance, AP, and AR as a daily snapshot.
Include non-financial and calculated data in your dashboards, such as number of customers or revenue per employee.
Sage Intacct dashboards allow you to see more of your business data faster — and share that data in secure, user-friendly ways. Be sure to register for the webinar on April 12 to learn how to build them right. If you have questions, contact us. We'd love to hear from you.